A Splash of Summer Chic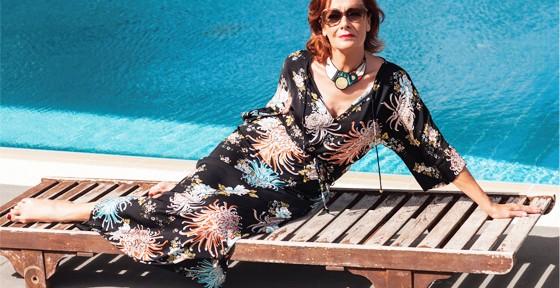 At times it feels like some people in the fashion industry tend to forget that we all get older… That's why, at TDA, we take any opportunity we can to showcase ageless beauty. In this colourful production, we are celebrating the fun breezy spirit of summer with two gorgeous ladies.  We "discovered" our models on the streets of Sydney and adored their style.
Meet Jennifer, 66, an executive search assistant who enjoys a busy cultural and social life.  She spends much of her spare time designing and making clothes and doing volunteer work at The Wayside Chapel. She loves the theatre and is taking part as an extra in "Oedipus Schmoedipus", a Belvoir production for the Sydney Festival.
Now meet Vana, 58, a ballet teacher who loves teaching, but she also enjoys participating in all the other creative arts attached to the world of ballet, eg costuming, tiaras, hairstyles and stage makeup. She creates her own jewellery pieces and clothing, often recycled from op shops and markets, which she has been frequenting for 40 years.
We wish to thank Gorman, The Family Jewels and White Suede for collaborating with us in such a generous and friendly way – we love what you do. Also a big thank you to Belgravia Leisure for allowing us to photograph at the beautiful Boy Charlton Pool.
This production wouldn't be possible without our talented photographer – Johnathan Rich – whose work we just adore. We were lucky to work with the amazing makeup and hair stylist – Amy Strachan. Last but not least, we wish to thank our gorgeous models; Jennifer and Vana for their spirit, positive attitude and hard work on the set!