FitBreak with an exercise ball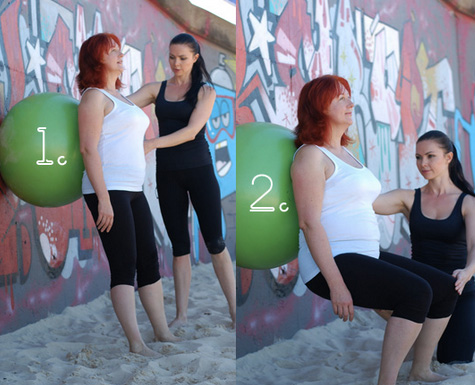 Following our plan to encourage our readers to start exercising we are presenting the second class of FitBreak – a program we developed with Natallia Pellew who is a professional personal trainer with over 20 years in the sport and fitness industry.
This time we invited Olga, 55, for a private session to demonstrate how our program is suitable for everyone. Working with kids, Olga is used to running around but fitness is not a part of her daily routine.
In this session we will introduce you to 3 simple and effective exercises using an exercise ball. Whether you want to increase your fitness level, lose weight, tone muscles, reduce risk of injuries and falls or improve posture, there will be many exercise ball options available for you. So if you don't have a ball, it's time to go and get one – and give it a name – as it will certainly become your new best friend!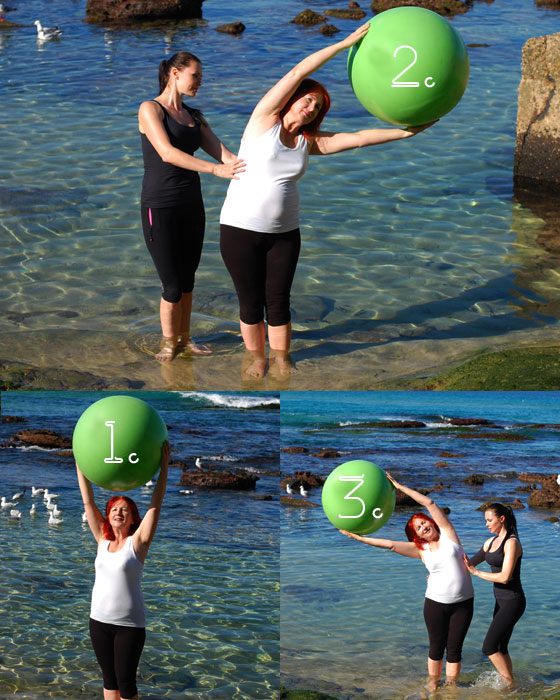 Side bend | Muscles involved: obliques and trunk stabilizing muscles. Also increases flexibility in the spine | 6-12 reps each side, 1-2 sets
Start standing tall with your feet together and the ball held above your head.
Breathe out as you reach the ball toward the right side, bending the upper body as far as is comfortable.
Hold for a few breaths and then return to standing, lengthening farther as you come up. Repeat on other side.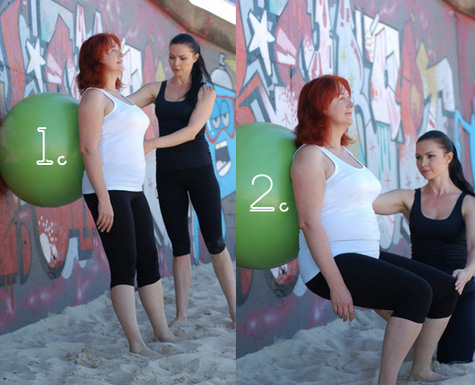 Ball squat | Target muscles: quadriceps, gluteals | 8-12 reps, 1-2 sets
Start with ball placed between body and the wall. Ball should be placed slightly lower than the shoulder blades.
Maintaining an upright position, initiate squat movement by lowering body toward the ground then stand.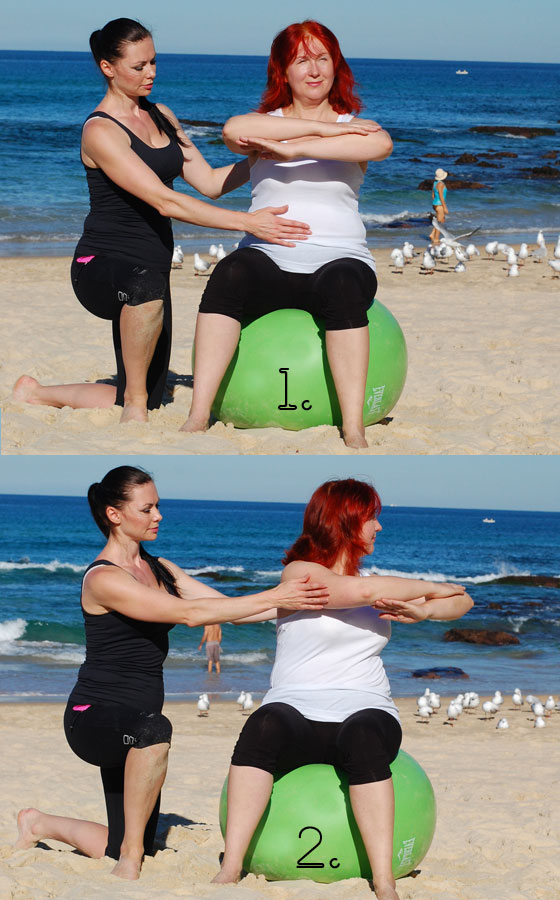 Spine twist on the ball | Target muscles: obliques and major trunk stabilizing muscles | 4-8 reps each side, 1-2 sets
Start seated tall on the ball with your knees bent, feet hip-width apart and your arms bent in front of you, opposite hand touching opposite elbow.
Breathe in to prepare, then breathe out as you turn your upper body to the right side as far as you can without allowing the hips to move.
Breathe in again when you reach the farthest point of your twist, then breathe out again as you turn back to your starting position.
After our class Olga said she started breathing deeper and felt more energetic. She will try to exercise regularly but this is a battle she has been fighting for a while – "It's been hard to keep my commitment to exercising". Natallia's tip is to start small and increase the intensity over time, even 15 minutes each time will yield results as long as you keep doing it regularly.
TDA would like to thank our personal trainer Natallia Pellew for taking us on a healthy journey.You can check out her company Fit n Fun and join one of her personal training sessions which are all about having fun and achieving your fitness goals.
Please note: Before you start any new programme get clearance from the doctor to exercise. If everything is alright, you can start to exercise at low intensity and duration and slowly progress to moderate intensity. In the beginning of each session start with progressive warm up for 5-10 minutes, and finish with cool down and stretching for another 5-10 minutes. Longer warm up and cool down is advised for beginners and de-conditioned participants.If you experience any discomfort or pain stop exercising and consult your doctor.