Fit For A Change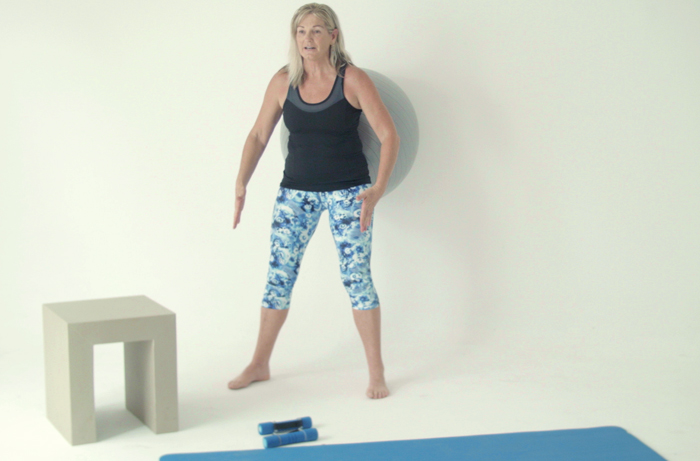 When Donna Emerson decided at 57 after a lifetime career in finance that she no longer wished to do that kind of work, she made a major career switch, went back to studying and became a fitness instructor. Shortly afterwards she opened Design Fitness & Health which is based in Burleigh on the Gold Coast. It wasn't a simple move but Donna admits she should have done it earlier.
We wanted to talk with her about what it takes to open a small business after 50. Wow and what an opportunity to get our readers moving! We created a short fitness video – starring Donna – giving you a simple workout you can do any day at home.
TDA: Could you tell us a bit about yourself?
Donna: I was born & raised in the country town of Casino in Northern NSW. On finishing school I headed to Sydney to start work with a major bank where I stayed for the next 23 years. During this time I married and had 2 children who are now aged 25 and 30.
After 23 years the banking world had started to lose some of its shine for me so I decided to move on. I was still working in finance but this time I was working within the Dept of Education at a local High School. This eventually led to a move out of Sydney to the Gold Coast where I continued to work in finance as a Mortgage Broker. So after almost 40 years, this was my very last finance job, and I retrained to become a Personal Trainer & start my new business.
TDA: What made you change your career after 50?
Donna: My passion for all things health/fitness started at the ripe age of 47 when I found Masters Athletics. I started competing in athletics (a first for me and a bit of a late bloomer!) and have been competing in some form of sport ever since.  Being healthy & fit has now become part of my life, but over the last few years I realized that many women were struggling with their health & fitness and exercise was just not on their priority list.
So at age 57, I changed my lifelong career from the finance industry and followed my passion. I qualified as a personal trainer and I now help other 50+ women grow stronger as they age. I now love what I do and just keep spreading the message that it is never too late to start or make a change to your life.
TDA: How did people react when you told them about your new career plans?
Donna: I found most people to be really supportive although some questioned why I would want to do this at my age. Well, to me, age is only a number in the bigger scheme of life. I also found support & help for growing a business in carefully selected network groups.
TDA: What was the hardest part of opening a small business?
Donna: Starting your own business is never easy and it is something that you have to continually work both on and in. Because I came from an industry totally unrelated to fitness & health the hardest part was starting from scratch & building a client base. I knew that I was targeting a niche market but I also knew from my own experience that this market for women aged 50+ was badly neglected by the fitness industry and young personal trainers who did not understand the training needs of the 50+ woman. I believe that I am offering a much needed service for women and the hardest part is still getting my message out to the people who need it most.
TDA: What was the best lesson from this experience?
Donna: I have learnt that life is not about just going along in the middle of the road accepting what you are dealt. If you are not happy step out and make the changes, it is never too late to start and age is not a barrier!
And now it's time to leave your chair and join us for a little workout. Before we start please check the disclaimer below.
Disclaimer: Our video shows a short fitness routine. Remember it is important to do a warm-up before you start and to stretch after. If you feel uncomfortable or unwell, please stop and rest. If you have existing health conditions or injuries, please consider consulting with your doctor before you try our workout.

Exercise 1:
Overhead Dumbell Press: Stand with dumbbell in each hand at shoulder level, palms facing forward. Push dumbbells over head until arms are straight & lower back to starting position.
Exercise 2:
Wall Squats with Stability Ball: Stand against a wall with the ball behind your back & squat down as the ball rolls up your back. Stand back up to starting position
Exercise 3:
Bridge on Stability Ball:  Lie on floor with feet on the ball. Raise your hips until you have a straight line from shoulders to ankles. Lower hips back to starting position on floor.
Exercise 4:
Side lunge: Standing straight, step sideways with one leg. Hips back & weight over that leg. Return to starting position & repeat on other side.
Exercise 5:
Wall Push Ups: Stand about arms length from wall, hands flat on wall at chest height. Keeping body in a plank position, lower body to wall & push to return to starting position.