It's prime time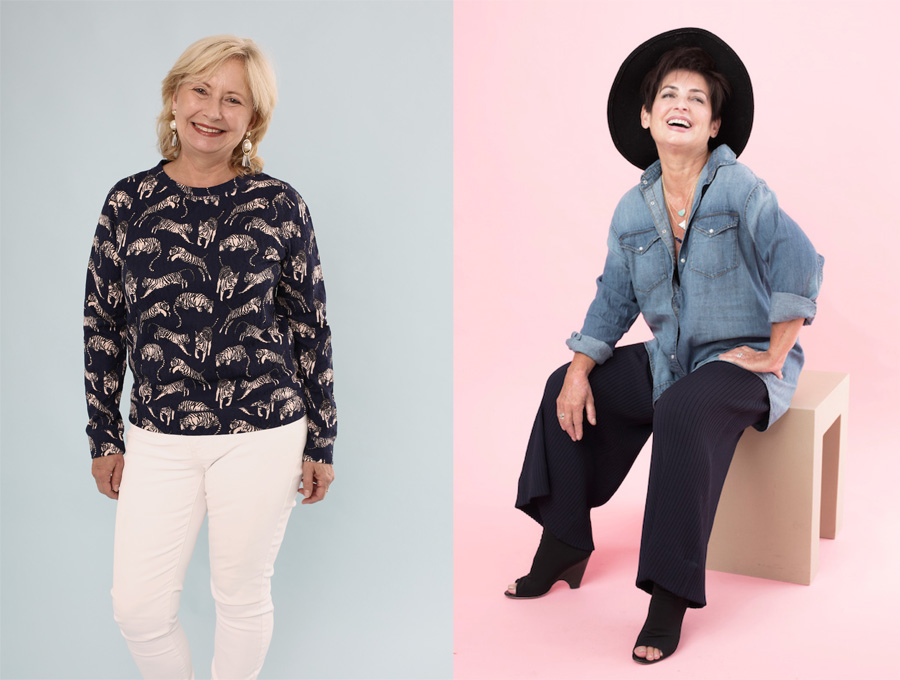 Only a few decades ago the average 60 year old would:
Have a standard perm … short of course.
Her daughter would no more borrow her clothes than fly over the moon.
She would consider herself lucky if she had raised her children without being expected to have a job.
She'd be unlikely to still have a full set of teeth.
If she still enjoyed sex she certainly wouldn't share that particular piece of information with anyone.
She would probably consider herself "past it."
How things have changed. This week we spoke to two women who consider themselves in their prime and with the world at their feet. Meet Trish (on the left) and Chris (on the right), both turning sixty soon and loving life. Special thanks to
Andrew
for his wonderful photography.
TDA: Could you tell us about yourself?    
Chris: Married, 2 adult children, 2 grandchildren, halfway through my career, love travel and the most important part of my life is my love of family and friends and all that encompasses.
Trish: I'm turning sixty in March. I left school at 15 and worked in public relations for nearly 20 years, both in-house and for consultancies, prior to starting my own consultancy at 30. I married and had two children then decided on a career change and opened a homewares store, which I loved. I sold it seven years later then started a web based directory for decor, which I also sold seven years later. For the past few years I've been studying at the Australian College of Applied Psychology. I hope to finish my degree next year. I aim to develop workshops for mature women to help them flourish in their mature years. I'll also counsel on a one-on-one basis.  
TDA: What would surprise people to know about you? 
Chris: I design and make patchwork quilts inspired by who it is for and how they live.
Trish: I love to swim for fitness and relaxation. I swim anywhere between 3 to 5 kilometres in a session and feel sensational afterwards. It helps clear the mind. To me it's like meditation. 
TDA: What does 60 mean to you?

Chris: Being 60 allows me to both know who I am and recognise who others are, which provides a best in life's ability to connect, engage, support and live my best life and enjoy every moment with family and friends.
Trish:
If someone says one more time "… of course at
our
age…" I'll poke myself in the eye with a fork in sheer frustration! I see the years from 60 onwards as full of potential and growth … a time to focus on being creative and enjoying every day with optimism and gratitude.  My mother turned 98 recently and she is living her old age with dignity, good humour and grace. I'd be happy with that.
TDA: What are the best and worst parts of this stage in life? 
Chris:
Freedom to be myself, knowing who I am and being able to live my life with passion in an open, supportive, interested and engaged way. I wish sometimes I knew in my thirties what I know now, but then I would not be me and I live my life with absolutely no regrets, as there is so much more to learn in this life from young and old alike.
Trish:
Best parts? I feel I don't need to prove anything anymore. I feel free to fully explore and express who I am. I fancy becoming a bit bohemian in my old age and cheeky. Older people can get away with lots! A downside is the body letting you down, both physically and aesthetically. You need to be savvy to dress well as you get older.

TDA: How would you define your fashion style?
Chris: Purely individual, inspired by me for me!

Trish:
After meeting Chris I'd have to say boring. I loved the way she dressed! She really knows how to put herself together. I'd love to have the confidence to dress with a bit more panache. But current style? Gosh I don't know. You decide.