Street Talks – Deirdre & David, Sydney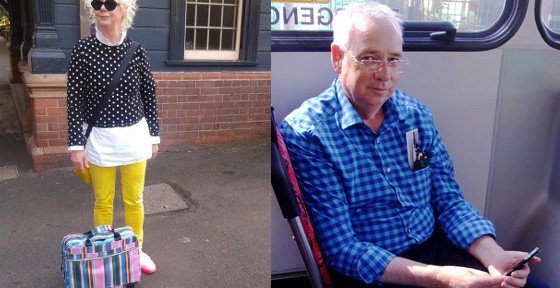 While commuting in Sydney, we came across these two creative professionals and caught them for a brief chat about their digital habits. Meet Deirdre, 60, who just retired after working for 35 years as a copywriter to start practicing as an artist and graphic designer.  Now, meet David, 59, who is the "Person in charge of passion & design" for BOUCHER & CO, his furniture company.
TDA: What websites do you visit frequently?
Deirdre: I am a news hound so all news sites are of interest to me including www.huffingtonpost.com and even www.perezhilton.com (TDA: hey, we all love reading some gossip).  
David: I use Google daily and like to get updated with news.com.au. I also visit a lot of design websites such as www.architizer.com
TDA: What do you use the internet for?
Deirdre: I Skype all the time – talking with friends and family around the world. I love watching stuff on YouTube and have thoughts about creating a project for this platform. 
David: I am in the process of writing a book about professional master crafts so I am trying to expand my understanding of Social Media as it is a valuable marketing tool. I manage the company's facebook profile, and have enrolled in a 2 day social media "boot camp" course to boost my expertise in the area. I am also working on the new website of the company with a web designer, which will replace our current site that I built years ago.
TDA: What are your favourite apps?
Deirdre: No apps… my friend was just about to download some for me but it didn't happen (TDA: Note to ourselves – write a story about how to download and install apps). 
David: Google Maps, Facebook and Pocket Weather.