100 Leading Ladies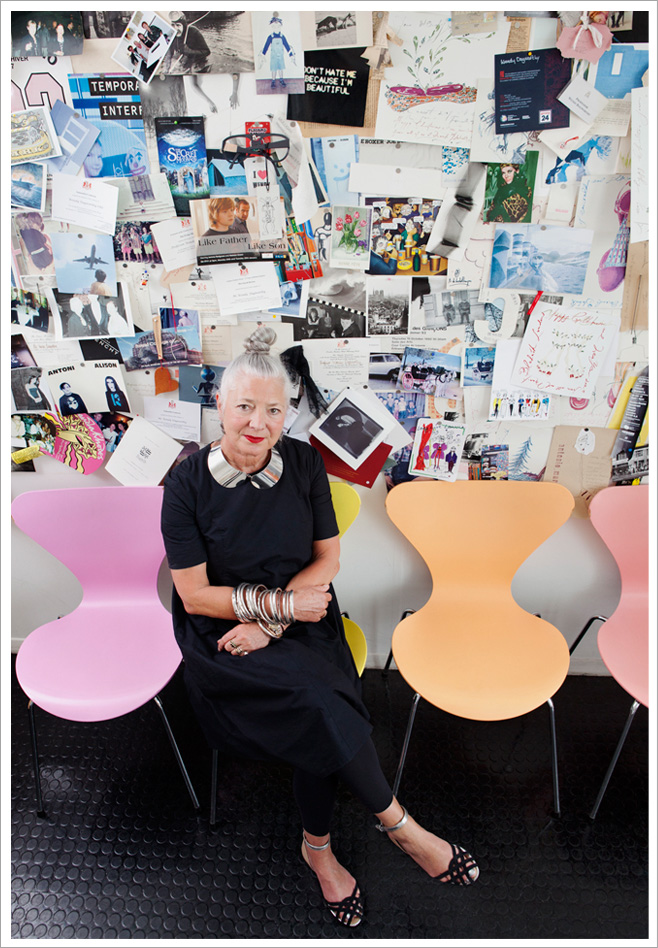 We can't wait to get our hands on a copy of the soon to be released book: 100 Leading Ladies. The book features portraits of Britain's most influential women, taken by the project's creator, award winning photographer Nancy Honey. From artists to politicians to scientists and philosophers, the women in the book are all successful, inspirational and over 55. Some of them are well-known like Australian theorist, academic and journalist, Germaine Greer; others have made great contributions to their fields, like Averil Mansfield, UK's first female professor of surgery.
Along with the intimate portraits the book includes interviews taken by former Times journalist Hattie Garlick, addressing topics such as balancing a successful career with family life, gender discrimination and work ethic. The aim of the project is to change perceptions about ageing and inspire young women by showing that you can have an extraordinary career.
The book 100 Leading Ladies will be released on October 2nd, and can be purchased here. To celebrate the launch of the book, all 100 portraits will be featured in a free exhibition at the Courtyard Galleries at Somerset House, London from 2nd-26th October 2014.
We were really curious to hear more about her project and asked Nancy Honey for a little insight into its development.
How did the work on 100 Leading Ladies develop? Where did the idea for the project come from?
Although I first had the idea for this project at the end of 2011, it was an idea that has evolved over time. Having done many personal projects about my own womanhood, I had long since wanted to do a project about influential, high-powered women. I had felt inspired for most of my career by women who seemed able to manage a more than full time job and often have a family as well. Within my own field, the standout example was Eve Arnold. I began by sitting down with Hattie and talking about what influence meant to us.
Whilst initially conceived as a source of role models for younger generations it subsequently evolved and become more diverse. This is a living history exploring in depth the personal and private issues surrounding women's success in the workplace, and I feel it's great to have the achievements of women outside traditional fields in the foreground. Indeed many of the women, whilst incredibly successful and influential within their given spheres, are relatively unknown outside of these; and this is something I wanted to combat. I wished to show aspirational young girls that the opportunities available to them are endless, and in no way determined by their gender. Furthermore I wanted to get across that enjoying your job is about more than just work. It is so interconnected with your life and confidence and self esteem, and I think that's an important message to convey.
How did you choose the women you photographed? Why 100? Is there an age related element?
I wanted to feature influential women who loved their work and have influenced all walks of British life. It started with diverse personal heroines – from Barbara Hulanicki, the founder of Biba, to Shirley Williams [the co-founder of the Social Democratic Party].
From there, it evolved organically. I thought these women would be very difficult to get to, but after I'd photographed 12 or 14, I realised they were all keen to give me their personal contact and suggest further people to photograph. I started asking everyone who they would suggest, and from this I was able to find women I never would have heard of otherwise.
In terms of the age related element I also wanted to produce a body of work that provided the message that getting older is good, and doesn't have to be this negative process that should be resisted at all costs, as is often portrayed within the media and popular culture. Furthermore there was a somewhat autobiographical element running through the work. Hence I wanted to photograph women within my own generation and those before me. Therefore all the women featured in the project are over the age of 50.
Aside from being successful and strong women – what do these women have in common?
For me one of the most enduring insights I gained throughout the project was just how much many of the ladies had in common, despite being drawn from an incredibly diverse range of backgrounds. One of the things that came through from the project is a lack of confidence that we seem to have as women – and the diverse range of methods used to get over this lack of confidence run through the interviews.
How did the collaboration with Hattie Garlick start? Tell us a bit about this cross generations dynamic.
I've known Hattie for many years and always admired her talent as a writer (she was formerly a Times journalist). When the project first began she had recently become a first time mum. I really wanted to incorporate a younger generation view into the subjects I wanted to explore within the work.  Indeed she had a burning interest in the very same questions surrounding female achievement and success that I had; therefore collaborating on the project made perfect sense.
What photograph do you like the most & why?
I couldn't possibly decide, they all mean a great deal to me, each having their own significance and value.  Although given the sad news of her recent passing it was a great honor to have had the chance to meet and photograph Helen Bamber, and I hope her inclusion in the project will serve to highlight the incredible work she carried out assisting victims of torture, and her namesake foundation will continue.