5 mobile apps for health and happiness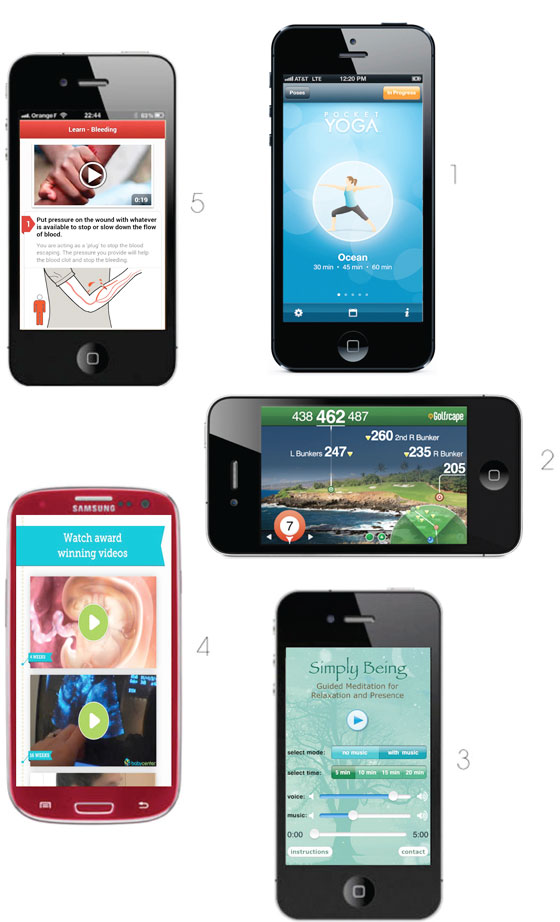 An "app" (short for application) is a software program that you can install on your phone. Most mobile operating systems such as Android, iOS, Windows Mobile and Blackberry have dedicated app stores where customers can search and download applications. App prices vary but you can definitely find some great ones for free.  Installation of each app will take space on your memory card – you can check the size of the application before you start downloading.
We selected a few apps that could make a difference in your life. You can also check out some of our previous lists, such as 5 free useful apps and 5 TODO apps.
Pocket Yoga
With this mobile guide to yoga, you can practice yoga any time and anywhere. You can choose from various practices, different durations of classes and a range of difficulty levels. It is accompanied by a soothing voiceover, and you can swap out the default music with your own music library.
Price: $2.81 – $4.49
iPhone, Android and BlackBerry
Golfshot: Golf GPS
Into golf? This GPS-enabled app could help you improve your performance on the field. It includes more than 40,000 courses worldwide and allows you access to aerial views. The app comes with a handicap calculator and once stroke information is inputted, it automatically creates statistical graphs that map your performance.
Price: $28.92 – $29.99
Website: golfshot.com
Simply Being
If you are looking for a way to decrease the stress in your life, Simply Being could assist you with their instructed meditation sessions. The directions are clear and the relaxing background music will ease your meditation experience even if you have yet to experience this technique. The app was recommended on The New York Times and Yoga Journal.
Price: 99c
iPhone, Android and BlackBerry
My Pregnancy Today
Your daughter is expecting? Here is a great way to be involved in this special journey. The app was created by BabyCenter – one of the most popular parenting hubs in the world. It includes a pregnancy checklist, fetal development images, videos and weekly guides to pregnancy.
Price: Free.
Android, iPhone the app is not available for BlackBerry.
First aid by British Red Cross
This is a must have app that could provide you with essential guidance in case of an emergency. Developed by the British Red Cross the app includes videos, interactive quizzes and simple step-by-step advice – making first aid easy and simple to understand.
The information is all hosted on the app itself, meaning no internet connection is needed.
Price: Free
Android, iPhone and BlackBerry