Mini City Guide – Melbourne, Australia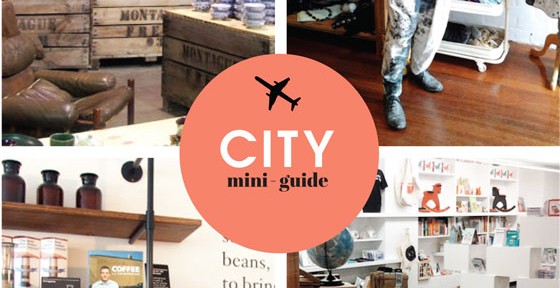 Well, who doesn't like traveling right? But at a certain stage in life, when there is more free time in your diary and the nest is empty, the temptation to see the world and discover new places is even stronger.
So, as a service to our readers (and to feed our own traveling addiction) we are presenting our first Mini City Guide. Say g'day to Melbourne, Australia – the capital of good food and culture, which was recently chosen by MONOCLE magazine as the second best city in the world to live in.
Shops:
Books For Cooks 
If cooking is your thing, this shop is the place for you, with a selection of books from all around the world about any type of cuisine that you can imagine. Check out their event calendar to see what's on their plate.
Location: 233 Gertrude St Fitzroy. Web: www.booksforcooks.com.au
Aesop
This Australian based company offers a range of natural products for your body, hair and face. While not cheap, the quality of their products is among the best in the market – and you can always try their samples first. There are a number of Aesop shops in Melbourne, check their website for more info: www.aesop.com
Fokus
A great place to hunt for accessories, bags and glasses. With a truly unique collection of designs that will make you stand out this shop is not one to be missed. Though small, they carry a wide range of products.
Visit – www.fokusmelbourne.com.au
Jon Laing
Fashion agent Jon Laing opened a shop that offers an exciting collection of designers' clothes and accessories. The shop's rare offerings are a good reason for a visit along with the stylish Jon who will surely make your look better. Visit – www.jonlaing.com.au

Signed & Numbered
This small creative outlet offers a range of prints from emerging local artists at affordable prices. There are artworks by over 40 different artists, and all prints are limited edition. The shop also offers framing and has a friendly online shop.
Visit – www.signedandnumbered.com.au
Made in Japan
You can close your eyes and imagine that you are somewhere else while in this special shop that imports beautiful items for the home from Japan. The space is beautifully designed with Japanese elements and style. Collection includes both traditional and contemporary pieces. Location: 276/278 Coventry St, South Melbourne VIC 3205.
Food:
Chin Chin
Offers sophisticated Thai food with south asian influences. Aside from the delicious food, the vibe in the place in very dynamic – we especially liked the audio of Thai language classes that you can listen to while visiting their toilets. As this place is very popular among the locals we recommend you book your table in advance.
Location: 125 Flinders Ln, Melbourne 3000
Visit: www.chinchinrestaurant.com.au
Market Lane Coffee
If you love coffee – this place is a must! At Market Lane Coffee they have mastered the art of coffee making. They also have a little coffee school where you can attend a range of classes (one-off and longer-term). You can buy their roasted coffee and various merchandise both online and in their shops.  A word of warning, don't come hungry, as food options are very limited.
There are three locations to pick from. Visit: www.marketlane.com.au
St. Ali South
One of Melbourne's favorite cafes, that offers good food and wonderful atmosphere. Located inside a converted warehouse with delicious food options and onsite coffee roasting, this place is a great spot for pleasure or business meetings. Opens daily starting at 7am.
Location:12-18 Yarra Pl, South Melbourne 3205
The sister cafe St. Ali North opened recently and is located on 815 Nicholson St. Carlton North.  Visit – www.stali.com.au
Art & Culture:
Australian Centre For The Moving Image
Along with the main exhibition that provides a historic review of the moving image (including film, television and digital culture), there are a number of exhibitions running simultaneously. The centre also has a program of talks and live events. There is a small cinema at the venue with an alternative selection of movies on offer.
Location: Federation Square, Melbourne
For more information visit: www.acmi.net.au
Australian Centre For Contemporary Art
The first attraction here is the incredible building that houses the museum. It was designed by local architects Wood Marsh and is by itself a piece of art. The museum is the ultimate place to visit if you are a fan of modern art. Usually there are 2-3 exhibitions at a time. There is a small coffee shop and a book store onsite.
Location: 111 Sturt Street Southbank
For more info visit: www.accaonline.org.au
Melbourne Theatre Company
The theatre offers a range of original plays featuring the best talent in Australia. Productions are being held in both Arts Centre Melbourne and Southbank Theatre – a very unique building which is worth checking out in any case. There are 13 exciting plays on their calendar for 2014 season.
For more info visit: www.mtc.com.au
National Gallery Of Victoria
A must stop for every visit to Melbourne, the museum offers a wide range of international and local artwork from various periods. The museum shop has an amazing selection of books and is an attraction by itself. Locations: International collection – 180 St Kilda Road Melbourne | Australian Art – Federation Square
For more info visit:www.ngv.vic.gov.au