Opening a shop online · Meet Designer Louis Cardini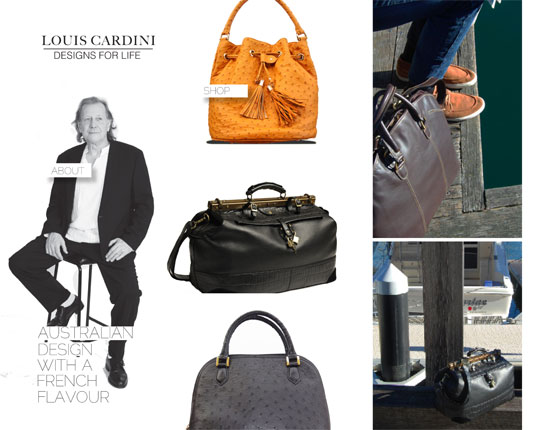 Louis Cardini is a Sydney-based luxury bag designer. After trading from stores in iconic Sydney locations for over 30 years, Louis recently opened his first e-shop with the help of friends and family. Louis uses a service called Shopify – it is one of many online store providers available, but it is popular due to its ease of use, affordable pricing and beautiful design templates. We caught up with Louis for a short talk about his experience managing an online shop. If you get a chance, visit his website or drop in & say hi at his shop in Sydney's historic Rocks area.
TDA: What made you open an online store?
Louis: Everybody thinks it is a must.
TDA: Why do you have both an online shop and a physical shop?
Louis: People look at the website, and then might come to my shop to see the bags for themselves. Whether they buy online or in the store, I think that they like to hold the product first. It is a complete experience – a way to test the product before.
TDA: How do you manage your online store?
Louis: I photograph the product on my iPhone, then prepare the photos on the computer using free software from Microsoft. Next I upload the images from my computer and just follow Shopify's instructions.
TDA: What do you do when you are stuck?
Louis: I ask friends, my son who works in IT, or my daughter who is a graphic designer.