Sydney, Australia – Pam & Ruth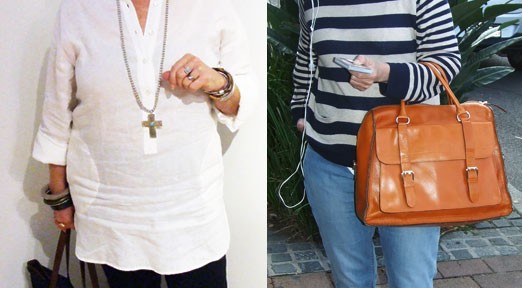 Now look at these stylish ladies I met on the street this week! Pam, 70 years old, used to own a fashion shop. She loves traveling and is always ready for another trip. Ruth, nearly 60, is an accessories designer and a graphic design lecturer.
TDA: What websites do you visit frequently?
Pam: www.blackandspiro.com.au, www.couriermail.com.au, www.abc.net.au
Ruth: www.thesartorialist.com, www.garancedore.fr/en, www.ted.com
TDA: What do you use the internet for?
Pam:  I use email, watch videos on Youtube (lately the Australian version of  "The Voice" ) and tv shows on ABC's iview.
Ruth: Everything [laughs…] For example, I research before my classes so it helps me to prepare materials. I enjoy reading about marketing, in particular emotional branding. I stay in touch with my previous students via facebook – we collaborate on various creative projects.
TDA: What are your favourite apps?
Pam: Weather app, Mahjong (for iPhone or for Android) and pinterest
Ruth: Audio book (for iPhone and for Android), Abc Radio and  Sydney buses