Tutorial: How to apply lipstick for mature women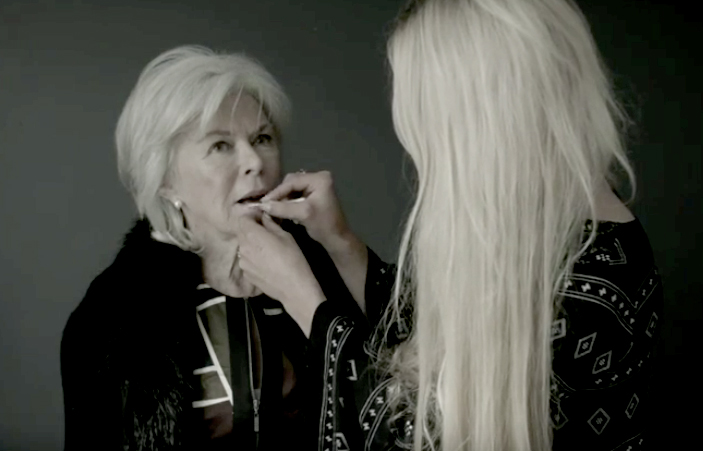 We have a special makeup tutorial for you with the talented makeup artist Liv Lundelius where she will show us how to apply the best lipstick to mature women. Be prepared for some amazing tricks…
No matter your age a bright or bold lip can really brighten your complexion and add glamour to even a simple outfit. It's such a quick and easy way to transform a day time makeup look to night time. Of course a bright lip can be worn at day time too.
Here are my tips to create beautiful bold lips that last:
1. It's important to prep your lips and make sure they are smooth and hydrated. Besides drinking enough water on a daily basis, it's a good idea to exfoliate your lips with a special lip scrub or with a soft toothbrush and some lip balm.
2. Apply a generous layer of lip balm as first step and let it sink in while you do the rest of your makeup.
3. When you are ready for lipstick, blot off excess balm and use a creamy lip liner in your lip colour or the colour of your choice to apply all over the lips. This will improve the staying power of your lipstick immensely.
If you have a problem with lipstick "bleeding" outside of your lip line, use a clear lip liner with a waxy texture, this can be applied outside your lipline and will prevent the lip colour from settling into lines around the lips.
4. Stay with your natural lip shape and don't draw outside of your lip line. If your lips are uneven you can balance them with lip liner to make them appear more symmetric. Once the colour fades it disappears evenly and you won't be left with a scary outline of lip liner, which is never a good look.
5.  Choose the right texture: Go for a lipstick that feels hydrating and nourishing, avoid colours that are overly matte and opaque, they are less flattering. A little shimmer will make your lips appear fuller. The colour should go on creamy and smooth and not look dry. You also want to avoid overly glossy textures as they tend to smudge and run very easily.
6. If you choose to wear red or bold lips, blot the lips with a tissue and apply another layer, you can repeat this step to achieve more staying power and a deeper colour.
7. Apply your lipstick with a lip brush for a professional finish, you will be much more precise.
8. Take your lipstick with you for touch-ups after drinks and food. Have fun!